| Hakim Hayat |
LOCAL Bruneian lawyer and arbitrator, Professor Dr Colin Ong was elevated to the title of Queen's Counsel (QC) of England and Wales during an auspicious ceremony held at the House of Lords, Westminster Hall, in London, United Kingdom yesterday.
Professor Ong is a member of the Brunei Darussalam, England and Singapore Bars and has now become the first lawyer from an Asean member country to have been elevated to the title of QC of England and Wales, one of the highest accolades that can be bestowed on a lawyer.
The title of QC is bestowed by Her Majesty Queen Elizabeth II, through the recommendation of the Lord Chancellor of England and Wales, upon the most capable of English lawyers who have proven their mastery of the law and ability in oral and written advocacy before the Higher Courts of England and Wales.
Professor Ong had to go through several stages of competitions against a few hundred leading barristers and lawyers in England, and independent assessment panels in order to become the first in the Asean to be bestowed the title of English Queen's Counsel.
He was awarded with Her Majesty Queen Elizabeth II Letters Patent of Appointment by the Lord Chancellor of England and Wales during the ceremony yesterday.
As all barristers who are elevated to QC wear silk gowns of a particular design, the award of QC is known informally as "taking silk", and hence QCs are also colloquially called 'silks'. The appointment to the rank of QC are made purely on the basis of merit rather than a particular level of experience.
Professor Ong has been involved as arbitrator and lead counsel in over 300 major arbitrations across a dozen countries and in major court cases in Brunei, London and Singapore. Over the years, he has led teams that have included both Senior Counsel from Hong Kong and Singapore and also other English Queen's Counsel.
He has been serving as President of the Arbitration Association Brunei Darussalam (AABD), the statutory Appointing Authority for Arbitration in Brunei since 2009. Professor Ong is also Advisor to the China-Asean Legal Research Centre; a member of the world International Chamber of Commerce (ICC) Commission on Arbitration; and a panel member of ICCA-Queen Mary Task Force (Costs and Security for Costs).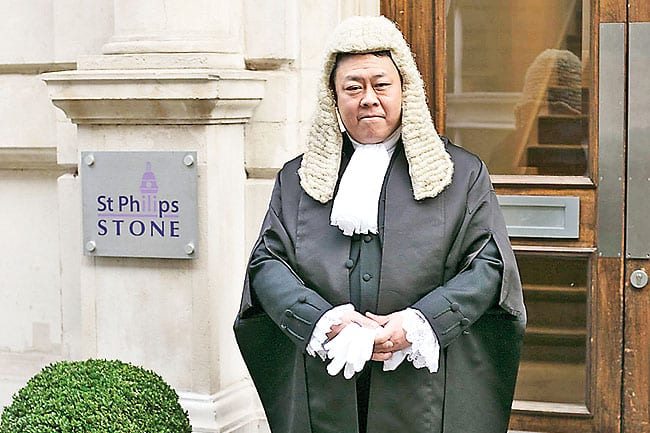 Professor Ong has been entrusted by three other Asean member countries with important duties to maintain the smooth running of the arbitration systems in those countries. He is the Vice President of the Appointments Council for the Thailand Arbitration Center (THAC); the Advisor to the Governing Board of Badan Arbitrase Nasional Indonesia (BANI); and Appointing Council of the Cambodian National Commercial Arbitration Centre.
In 2012, Professor Ong was highlighted by Who's Who Legal, the most prestigious legal ranking publication as one of three leading 'Commercial Litigators in the World' and was again highlighted in 2015 as one of two leading 'Construction Lawyers in the World'.
He also successfully led a major dispute, acting for Perusahaan Gas Negara Indonesia in 2011 in Singapore, which succeeded in showing that there was a flaw in the FIDIC Standard Form of Contract, the most commonly used standard construction agreement in the world, including in Brunei. As a result of Professor Ong's earlier arbitration case, FIDIC subsequently amended the Standard 1999 FIDIC Form Contracts in April 2013 and issued an urgent FIDIC Guidance Memorandum on the Internet.
He is Vice Chairman of the Arbitration Committee of the Inter Pacific Bar Association; and a Vice President of the Asia Pacific Arbitration Group, which has 33 member countries from Asia-Pacific. He has been a former Principal Legal Consultant to the Asean Centre for Energy (Jakarta); and a former Vice President of the London Court of International Arbitration (Asia-Pacific Users' Committee).
He is recognised as having a 'supreme command of legal issues' by the leading legal directories. Global Arbitration Review ranked him as one of the 45 leading lawyers worldwide under the age of 45 in 2012. He was lead counsel before the Singapore Court of Appeal in the case of Perusahaan Gas Negara v CRW [2015] SGCA 30, which resulted in rare split judgments at the Singapore Court of Appeal. The two judgments have a worldwide impact on the construction industry and they were subsequently recognised as the runner-up case in the GAR Awards 2016 for 'the most important reported decision 2015'.
When asked about his future plans, Professor Ong, who is in his forties, said he wants to spend more time with his family. Due to his constant work travels across six countries, he had not spent as much time with his children – Christopher, Camilia, Cyrus and Cedric – as he had hoped.
He said he will continue to train his junior lawyers in Brunei, London and Singapore and ensure that his Brunei lawyers will continue to improve to prepare for the eventual competition with international and regional law firms when the Asean Economic Community comes into full operation.
Professor Ong also wishes to spend more time working as a lead counsel for other Brunei and Asean law firms in important commercial litigation and arbitration matters and to continue working for his clients across the world, which include multinational companies and state owned entities.
Haji Mohamad Rozaiman bin Dato Seri Laila Jasa Haji Abdul Rahman, President of the Law Society of Brunei Darussalam said he is pleased over the appointment.
"Such an award is historic and serves as a positive challenge for every local Counsel. I congratulate him on his achievement and look forward for him to his contribution to our Law Society and beloved country," he said.
Yang Amat Mulia Pengiran Indera Negara Pengiran Anak Haji Puteh ibni Al-Marhum Pengiran Pemancha Pengiran Anak Haji Mohamed Alam, Deputy President of AABD, said Professor Ong has made Brunei Darussalam proud by making history.
"The appointment was considered against five competencies – understanding and using the law, written and oral advocacy, working with others, diversity and integrity. He possessed all five. As the Deputy President of the AABD and a fellow of Chartered Institute of Arbitrators, I am also impressed with Professor Ong, who has faithfully served as President of the AABD.
"Despite his busy schedule, he has spent so much time in promoting Brunei Darussalam internationally, and in discharging his duties as arbitration appointing authority since 2009 by making sure that the arbitration legal process in Brunei Darussalam continues to operate smoothly. As head of the national statutory arbitration body, he has performed his duties to the nation very well, and for this, I admire him even more greatly," he said.
London-based John Jarvis QC said that Professor Ong has a first-class mind and great advocacy skills which makes him a natural choice for a QC.
"What is so remarkable and a reflection of the high standing in which Colin is held is that his practice is not exclusively centred in the UK but rather also in arbitrations and international jurisdictions. To have achieved 'silk' is a signal accolade in these circumstances. I warmly congratulate him and am wholly confident that his practice will move from strength to strength."
M Husseyn Umar, Chairman of BANI Arbitration Center Indonesia and President of Asia Pacific Regional Arbitration Group (APRAG) said it is a great honour for Brunei Darussalam, and Asean, to have its first lawyer elevated to a QC.
"Our valuable BANI Governing Board Advisor and one of APRAG's vice presidents a highly respected arbitrator and lead counsel in Indonesia and in the region. Professor Ong is highly respected by Indonesian lawyers, arbitrators, companies and state owned enterprises, and also as one of the eminent lawyers in the region with his outstanding capabi-lities, expertise and experiences in international arbitration forum," he said.
Elizabeth Blackburn QC and Vasanti Selvaratnam QC from the Joint Heads of London at St Philips Stone, said they were delighted over Professor Ong's appointment.
"Colin is an enormously well-respected commercial barrister and arbitration specialist and member of the St Philips Stone international commercial law team. It is a fantastic achievement that Colin is the first Asean national to be elevated in such a way.
"St Philips Stone is committed to the Asia-Pacific region and has a strong presence there with barristers practicing from major jurisdictions including Hong Kong and Singapore. Colin's appointment will only strengthen our presence there."
David Campbell, the British High Commissioner to Brunei Darussalam also congratulated Professor Ong. "The award of QC is for excellence in advocacy in the higher courts. It is a mark of high distinction recognised throughout the world. His appointment follows a demanding selection process involving judges and other members of the legal community in England and Wales."
Dato Paduka Haji Mohammad Alimin bin Haji Abdul Wahab, Executive Trustee at Pusat Ehsan Al-Ameerah Al-Hajjah Maryam (Pusat Ehsan) said he was very happy for Professor Ong's well-deserved elevation to QC.
"He has been highly supportive to Pusat Ehsan and has assisted us over the years. We are grateful to him for helping to highlight our centre's existence and needs outside Brunei Darussalam. He has given Brunei Darussalam a new source of pride."